Statement of revenue and expenditure for the year 2016
| OWN FINANCING | 1.442.069,02 € |
| --- | --- |
| Sales at EquiMercado | 1.040.157,66 € |
| User Fees | 19.033,20 € |
| Donations and Campaigns | 332.715,45 € |
| Financial Revenue | 9.364,92 € |
| Promoción captación recursos | 2.949,27 € |
| Extraordinary Revenue | 37.848,52 € |
| Private Revenue | 1.843.762,71 € |
| Service Providers | 479.785,78 € |
| Private Subventions | 1.363.976,93 € |
| Public Financing | 7.702.629,01 € |
| Service Providers | 1.812.445,95 € |
| Public Subventions | 5.890.183,06 € |
| Total | 10.988.460,74 € |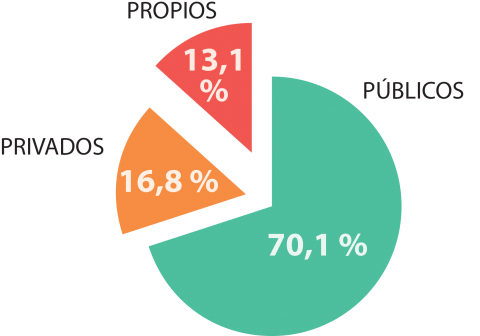 | Gastos corrientes | 11.039.708,48 € |
| --- | --- |
| Gastos de personal | 6.930.558,60 € |
| Ayudas económicas | 1.480.657,40 € |
| Gastos de actividad | 2.502.882,79 € |
| Dotación amortizaciones | 79.206,60 € |
| Gastos financieros | 46.403,09 € |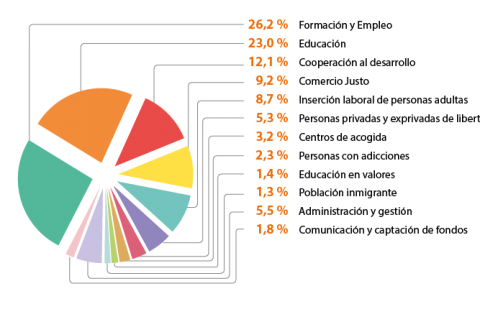 In addition to the reports and audits we produce to each public and private funder, Fundación Adsis submits its accounts every year to the external audit company
GZ Consultores-Auditores S.L.
which is deposited in the Protectorate, according to the Law. The audited figures are contained in our annual reports.
Accounts audited annually by: GZ Consultores- Auditores S.L.
Fundación Adsis has been analyzed by the Spanish organisation Fundación Lealtad, and complies with all the Principles of Transparency and Good Practices.
We are also audited by the Spanish organisation Coordinadora de ONG para el Desarrollo (CONGDE).