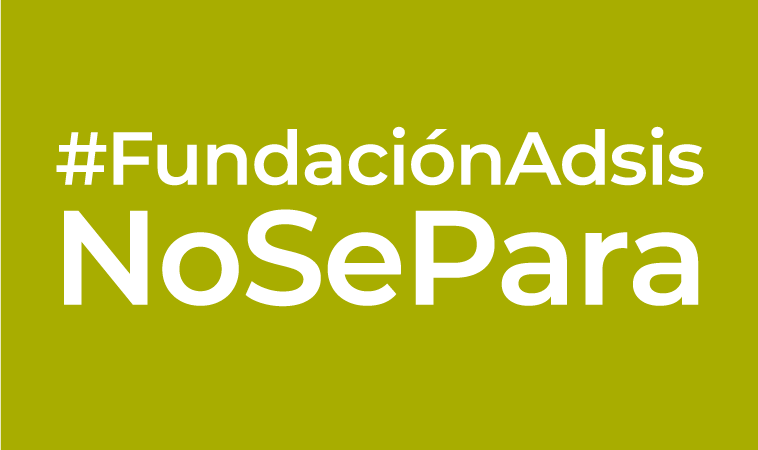 Fundación Adsis does not stop
07/05/2020
These days there are spontaneous gestures of solidarity and collective motivation in the face of adversity, whether in the form of applause at windows and balconies, through social networks or the media. They recognize and appreciate the role of many professionals who strive, from the "front line", to face the crisis produced by the COVID-19 pandemic. Meanwhile, the entire citizenry can, and should, participate from their place with a responsible, collaborative attitude and behavior. And there is Fundación Adsis as an organization.
Despite the extraordinary situation we are experiencing, we are present. Our daily activity is clearly conditioned by an unprecedented reality, but we have not stopped, we continue forward.
We are obliged to seek alternatives to the work we do with and for the recipients of projects and services. We are creating and carrying out solutions other than face-to-face activity that is temporarily postponed. But we are also physically present when the situation requires it, taking all the necessary measures and precautions, together with people who need unavoidable, unavoidable services, whom we do not leave aside especially at this critical moment. In one way or another, we maintain our commitment to build a more just, supportive and inclusive society, in which each person continues, despite their regrets, with their life project.
I don't know how long this situation will last, who knows for sure? The truth is that our organization is challenged, as are the rest of the entities of the Third Sector, of society, of the planet. But, in the part that touches us, I know that with our effort and commitment as people, as professionals, and as an organization, we are capable of facing it.
Fundación Adsis does not stop.
Antonio Godoy González
General Director