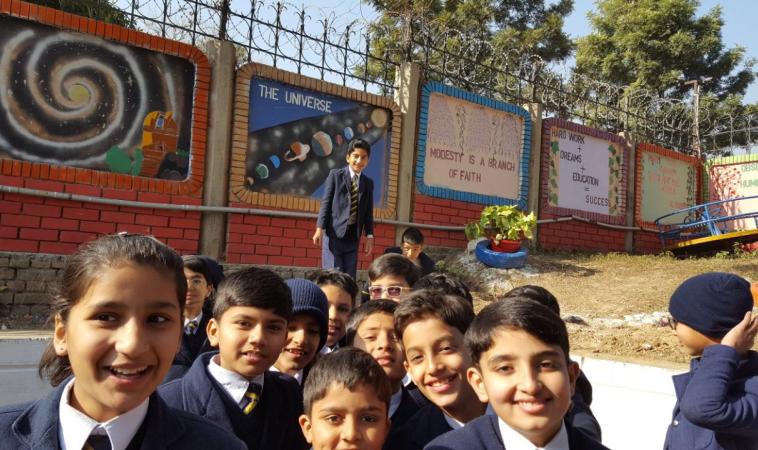 TOGETHER IN A WORLD WITHOUT FRONTIERS
28/10/2017
For the ninth consecutive year, Fundación Adsis —in collaboration with the Consorci d'Educació (Consortium for Education) and the Association of Parents (AMPA) from the Escola Drassanes (for the second time)— starts the project "Junts". This initiative promotes the bond between the schools from Barcelona and Islamabad (Pakistan). Girls and boys from both cities share popular songs and drawings through letters that travel so that both cultures meet.
Four educative centres from Barcelona participate in this cultural exchange: Escola Drassanes, Escola Antaviana, Escola Mn. Jacint Verdaguer and Escola Poble Sec. The activities are truly diverse and inspiring; from sending letters, pictures, tales and drawings to rehearsing and recording songs. They also do workshop of Pakistani culture and habits and extra English tuition in order to improve communication between both countries.
The cultural travel from the last edition (2016-2017) finished on the 30th of May 2017 with a meeting in the Auditorium AXA, where girls and boys, teachers, families and entities met to enjoy the interpretations starred by participating boys and girls who told the tales they had learnt and talked about their experience.
The event was a very special moment, with all the Catalan and Urdu tales and a great part pf the illustrations made by the boys and girls. A magical and enriching show that puts two cultures closer and emphasizes the group work and the living together.
This course (2017-2018) the final concert will be celebrated in May, with young people from the music school Orfeó Gracienc, who gave all their support in this edition of the project.
For further information about the project and the previous exchanges (Morocco, Senegal, Ecuador, Romania and China), you can visit it's blog: http://juntsbcnislamabad.blogspot.com.es/